For those who read the last page of a book first, here's the most important message of the Self-Assessment Method for Statin Side-effects Or Nocebo (SAMSON) Trial: Side effects from statin tablets are very real, but they are mainly caused by the act of taking the tablets and not by the statin that is contained within the tablet. In the SAMSON trial, 90% of the symptoms reported by participants taking a statin were also reported by participants who were unknowingly taking a placebo tablet.
A second message? After SAMSON researchers explained finding #1 to trial participants, half the participants went back on their lipid-lowering statin.
These powerful – perhaps surprising – conclusions came from James Philip Howard, M.B., Ph.D., lead SAMSON study author, and a Ph.D. fellow at Imperial College in London. The remarks were part of his late-breaking research presented on Sunday, November 15 at the American Heart Association's Scientific Sessions 2020. The presentation, titled Statin v Placebo v No Treatment: n-of-1 Trial of Patient Symptoms, was part of the larger late breaking science session Fish Oil, Fancy Drugs, and Frustrations in Lipid Management.
The SAMSON trial grew from a need to resolve an often-cited contradiction.
Statins are often discontinued due to side effects
Some blinded trials fail to show an excess of symptoms with statins when compared to the placebo
The n-of-1 trial, which continued for 1 year, included about 60 participants, mean age 65, who had each given up statin tablets due to intolerable side effects. Each participant randomly received a four-month supply of a 20 mg daily of atorvastatin statin, four months of placebo, and four months of neither. A new bottle was opened each month, although participants did not know what was inside the bottle. Study participants tracked their daily symptoms' severity on a smartphone app.
"We expected the four empty-bottle months to have a very low symptom burden and the four statin months to have a much higher symptom burden. We expected the placebo months to fall somewhere between these two," Dr. Howard said. "We further hypothesized that if statin side effects are caused by the statin molecule, then the placebo months could be down at the level of empty-bottle months."
What SAMSON actually found was quite different. As expected, symptom levels were substantially higher for the statin vs empty-bottle treatment. However, symptom levels reported for the placebo and statin were nearly identical.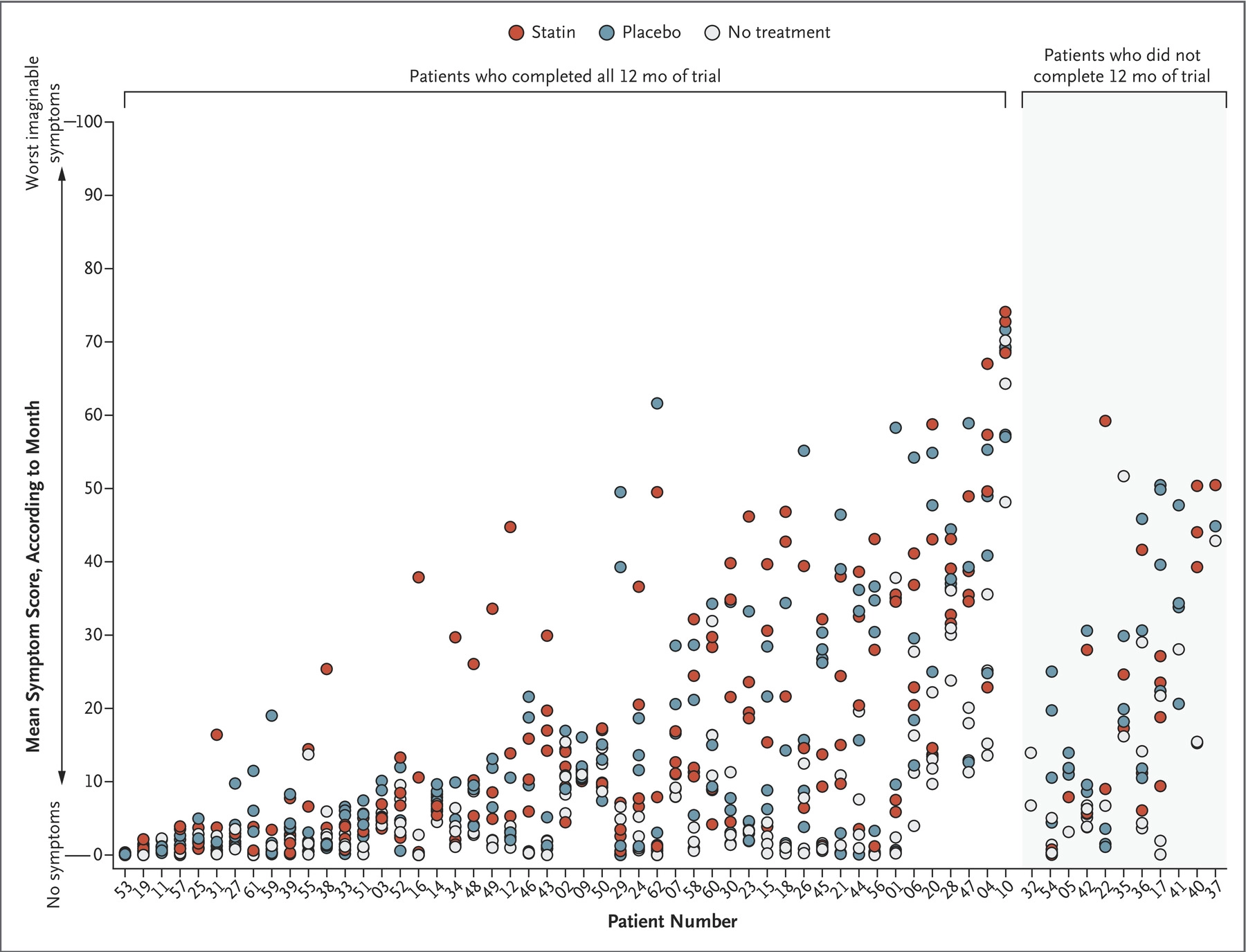 "We calculated the ratio between incrementing symptoms while taking a placebo and incrementing symptoms while taking a statin. We call this the nocebo proportion," Dr. Howard explained. "And in our study, the calculated nocebo proportion was 0.90."
Put another way, 90% of the symptom burden elicited by the statin portion of the trial was equally elicited by placebo.
After the yearlong trial ended, each participant received their individual data, and as Dr. Howard pointed out,
Participants could see as clearly as we could the surprisingly powerful magnitude of the nocebo effect."
This, he feels, led 30 of the 60 trial participants – who before the trial quit taking a statin due to side effects – to restart taking a statin.
The study did have its limitations. Only patients who developed their previous statin symptoms within two weeks of starting their tablets were included. Only a single statin at a single dose was included. And the trial was small.
In addition, the trial researchers are in no way suggesting that statin side effects are creative imagination at play.
But the trial does suggest that a discussion between patient and doctor might be worth the time before dismissing statins as intolerable.