SEARCH-AF CardioLink Trial, presented by Subodh Verma, MD, PhD, FRCSC, a cardiac surgeon at St. Michael's Hospital, University of Toronto in Canada, evaluated a novel diagnostic tool for detecting post-operative atrial fibrillation (AF) or flutter (POAF/AFL) in cardiac surgical subjects during the early, sub-acute post-operative period.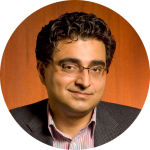 The trial's final conclusion reports that enhanced cardiac rhythm monitoring was superior to usual care at detecting postoperative atrial fibrillation.
Trial participants included 336 patients at eight medical centers across Canada who were recovering from cardiac surgery. No one in the trial had a history of atrial fibrillation prior to surgery but all were at-risk for stroke based on such factors as cardiac health, age, and medical history.
Participants were randomly assigned to two groups:
163 participants underwent 30 days of 24-hour, real time, cardiac rhythm monitoring through an adhesive, patch-based monitor worn on their chest
173 participants were in the control group and received 30 days of usual care, which did not involve planned cardiac rhythm testing/electrocardiogram assessment unless it was deemed medically necessary.
Patients in both groups had 14 days of continuous cardiac rhythm monitoring approximately six to nine months after their surgery.
Ultimately the trial determined that in the patient group with the 24-hour monitoring patch, atrial fibrillation was detected at a rate 10 times higher than in those who received usual care. Atrial fibrillation occurred and was detected in 32 (19.6%) patients from the monitoring group and in three (1.7%) patients who received normal care during the 30 days they were followed.
"Our study points to the fact that POAF is not self-limited to hospital stay per se. A significant risk of POAF persists even in those patients without any preoperative or pre-discharge AF. These data may help inform physicians about the importance of surveillance and vigilance in patients at high risk of stroke with respect to monitoring and prompt treatment for AF," Dr. Verma concluded.
Choose another trial to study