On November 10, the American Heart Association (AHA) published a Presidential Advisory in its journal Circulation. The authors write, "Structural racism has been and remains a fundamental cause of persistent health disparities in the United States. The coronavirus disease 2019 (COVID-19) pandemic and the police killings of George Floyd, Breonna Taylor, and multiple others have been reminders that structural racism persists and restricts the opportunities for long, healthy lives of Black Americans and other historically disenfranchised groups. The American Heart Association has previously published statements addressing cardiovascular and cerebrovascular risk and disparities among racial and ethnic groups in the United States, but these statements have not adequately recognized structural racism as a fundamental cause of poor health and disparities in cardiovascular disease."
With such a timely and committed statement, it's certainly no surprise that on Saturday, November 14, AHA Scientific Sessions teamed up with the Association of Black Cardiologists to present a deep dive into structural racism. The session, titled Structural Racism as a Public Health Crisis, delivered evidence as well as behavioral interventions to resolve inequities in cardiovascular (CV) care.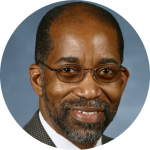 The session's initial keynote speaker was David Williams, MPH, PhD, Florence Sprague Norman and Laura Smart Norman Professor of Public Health and chair of the department of social and behavioral sciences at the Harvard T.H. Chan School of Public Health. His presentation, Understanding the Science of Racism in Cardiovascular Health, took a hard look at data and studies that provide proof-positive that structural racism is indeed fueling a public health crisis, particularly in cardiovascular health.
Dr. Williams began by citing national data for the United States. Data states that compared to whites, African American men and women have early onset of cardiovascular disease and its risk factors, greater severity and progression of CHD [coronary heart disease], and higher mortality from CHD.
"When we see these large racial inequities, it does not reflect that we have a broken system," Dr. Williams explained. "Instead, I would argue it reflects a carefully crafted system, functioning as planned and successfully implementing social policies – many of which are rooted in racism. Although we are in the same storm, we are in different boats, and some boats are not as well equipped to handle the storm as others."
To explain why some boats float and some do not, Dr. Williams turned first to income, which upon closer examination equals more than a bi-weekly paycheck.
"We know that one of the drivers in health globally is socioeconomic status – income, education, occupational status. And if we look at the most recent income data for the United States from 2018, we find that for every dollar of household income that White households receive, African American and Native American households receive 59 cents, Latino households receive 73 cents, and Asian households receive $1.23."
After introducing this "OMG statement", Dr. Williams added,
One of the striking things about the 59 cents figure for African Americans is that is identical to the racial gap in income in 1978."
What's missing in this income data, Dr. Williams says, is that it "tells us nothing about the economic reserve that households have to cushion shortfalls of income. The most recent data from the Federal Reserve Board indicates that for every dollar of wealth white households have, black households have 10 pennies and Latino households have 12 pennies."
While economic racial differences in health includes income, it also includes economic reserve.
Education gaps, too, are more complex than originally thought, Dr. Williams added. "White high school dropouts live 3.1 years longer than black high school dropouts. And the gap widens as education gaps increase. Consider this stunning statistic: The best-off African Americans – those with a college degree or more education – have lower life expectancy than whites with a college degree, whites with some college, and whites who have finished high school."
This data, Dr. Williams concludes, speaks profoundly to the fact that income and education's effect on one's health is far more complex than originally thought.
Introducing another trigger for structural racism, Dr. Williams spoke about the mechanism of residential segregation and its pervasive adverse negative effects on health. "As soon as segregation enters, valuables disappear – like good schools, safe playgrounds, good jobs, healthy environments, safe housing, good transportation, and access to high quality medical care. All of these things vary powerfully by place."
As racial discrimination escalates, it seems to feed upon itself – further escalating the nation's public health crisis. Studies have found that higher levels of everyday discrimination predicts: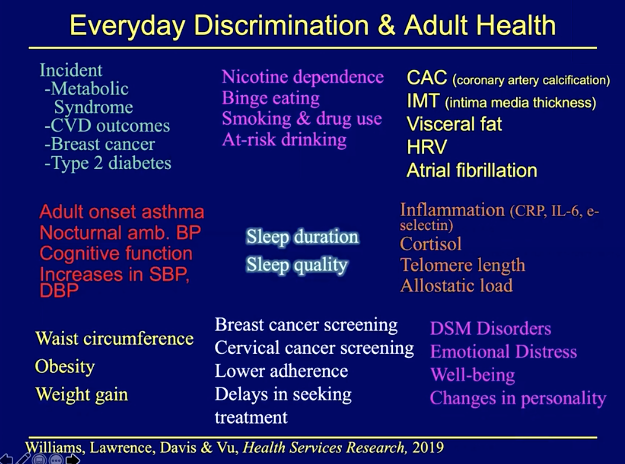 Ending his presentation on a positive note, Dr. Williams turned to solutions.
We need to create what I call communities of opportunity that minimize, neutralize, and dismantle the systems of racism that are creating inequities in health. We also need to diversify the healthcare workforce to meet the needs of all patients."
How important is diversifying the healthcare workforce? Consider this "sobering study" that Dr. Williams quoted. "A study of 1.8 million hospital births in Florida, between 1992 to 2015, shows that when cared for by white doctors, black babies are three times more likely than white newborns to die in the hospital. This disparity is cut in half when black babies are cared for by a black doctor. This highlights the work we need to do in diversifying the medical workforce."